The bullet app is a Pay Later app that facilitates the users of up to ₹10,000 credit for UPI payments – with zero interest. It's like a credit facility on UPI payments, where you can transact to the supported online & Offline merchants that accept UPI payments and can payback later.
Even if, You do not have bank balance at certain point of time, You can pay via Bullet app at the moment and can later payback without paying any extra charges.
Download Bullet App & Get 200Rs Real Cash
Download Bullet App.
Signup with your original name (As per Pan Card)
Get a free credit limit (Up to 10,000Rs)
You will get 15 Days of interest-free credit.
After getting the credit limit, a Cashback of 200 will be processed.
Scan any of your personal UPI's as well.

No hidden charges.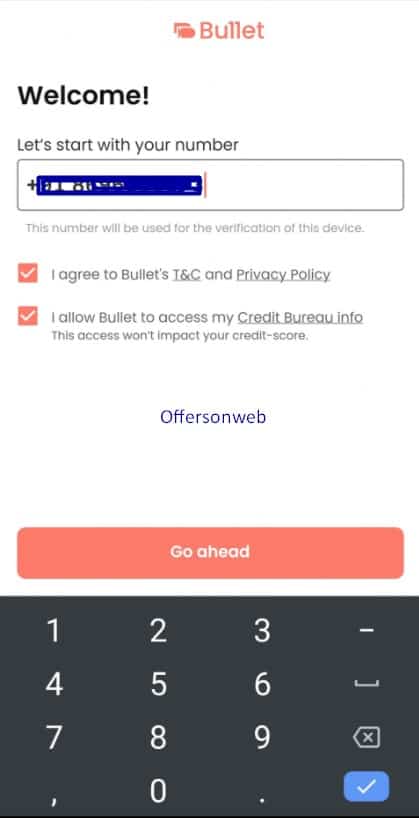 How To Track Limit In Bullet UPI App?
Limit in Bullet UPI is totally based on your credit scores and payment history which is based on your PAN card, your limit may change after some time.
You can avail this credit limit only 2 times per month.
You can track your limit in the app.
Valid on all merchants having UPI payments facility.
Secure and Safe transactions.
Use Cases Of Bullet UPI App
You can Shop online
Scan and pay anywhere
Shop on credit and pay later (only twice a month)
No Interest if paid on time.

Pay via UPI, with the benefits of a credit card

Pay via any UPI app (Google Pay, Bhim, PhonePe, Paytm UPI)
How To Pay Via Bullet App?
Open the app dashboard.
Click on "Scan & Pay" option.
Scan the "Merchant's Qr code"
Pay within the available limit.