Join Today India's #2 sports fantasy site, Use Myteam11 referral code: QQPZ4WZEMG to get 100Rs signup bonus. Sports Fantasy platforms are a perfect source to earn during COVID-19 lockdown. You can earn unlimited cash, which depends on your luck and skills. Virender Sehwag is a brand ambassador of Myteam11, which is enough to understand the level of trust.
MyTeam11 is a perfect platform and highly preferred after Dream11 to play a variety of sports under a single roof. Enjoy Fantasy Cricket, Football, Baseball, Basketball, Handball, Quiz leagues. Many new games are added daily, which was not even available during regular days.
Grab the opportunity, Do some research and grab the chance to earn the millions sitting at home. Myteam11 offers two game modes: Safe, Regular those who are newbies can play safe mode where lineups are mostly available, and competition is high, whereas in regular mode entry closes 30 min or 1 hr before the match start time, So you have to do some research. If you are good at research, then this mode will give you maximum profits.
How To Login/Signup MyTeam11 App?
Visit Official Site – https://www.myteam11.com/fantasy-sports/login
Register – Enter Email, Password, MyTeam11 Refer Code (QQPZ4WZEMG)
Get 100Rs Signup Bonus on using referral code.
Verify your account via OTP if required.
Due to govt. Restrictions, Residents of Assam, Nagaland, Telangana, Odisha, cannot withdraw the amount of your winnings.
MyTeam11 Refer Code Benefits
Earn up to 50-1000Rs per refer. Follow these steps:-
Click on Top left pic or open left side menu.
Click on "Refer & Earn"
Copy your Referral Code and directly share it on Social media sites.
Ask your friend to use your referral code during signup.
Once your referred person verifies his account my uploading Pan Card, you will get 50Rs.
Your friend will get 100Rs Bonus.
You will get a bonus amount as 5% of the amount deposit by your referred person.
Suppose if your referral person deposits 100Rs, then you will get 5Rs bonus in your account.
You can earn up to 1000 Rs per refer.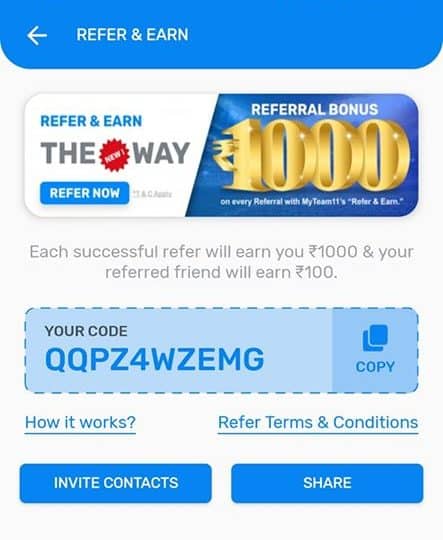 MyTeam11 Helpline Number
Email at "

[email protected]

."
Or call at +91-1414579900
You can "Live chat" on the app as well
You can connect with them for various queries related to your account.
How To Withdraw The Winnings Amount
You must have to verify your details like :
Verify Email, Mobile in the first step.
Upload PAN card details like – Name, PAN number, Picture of PAN card.
After Pan verification, You can update your bank details.
Bank Details – Your Full Name, A/c number, IFSC, Bank Name, Branch, Passbook/ Cheque Pic.
Your account will be verified within a week.
After verification, you will be able to withdraw the amount of your winnings only.
The minimum amount you can withdraw is 200 & the maximum is 100000.
You can request a maximum of 50,000 at once.
The amount will credit within 1-3 business days.
How To Play On MyTeam11?
After successful signup, You are now eligible to play paid & free leagues.
Go to Dashboard > Choose Safe or regular mode (Regular mode is available for cricket only)
Select the Sports you want to join leagues in (Cricket, Football, Basketball…..)
Select any upcoming match.
Create the team according to the mentioned criteria.
Join any league my filtering them according to entry fees, Winning amount, etc.
Track your points to understand the position of your team.
If your team tops the charts, then your winning amount will credit after an hour of match completion.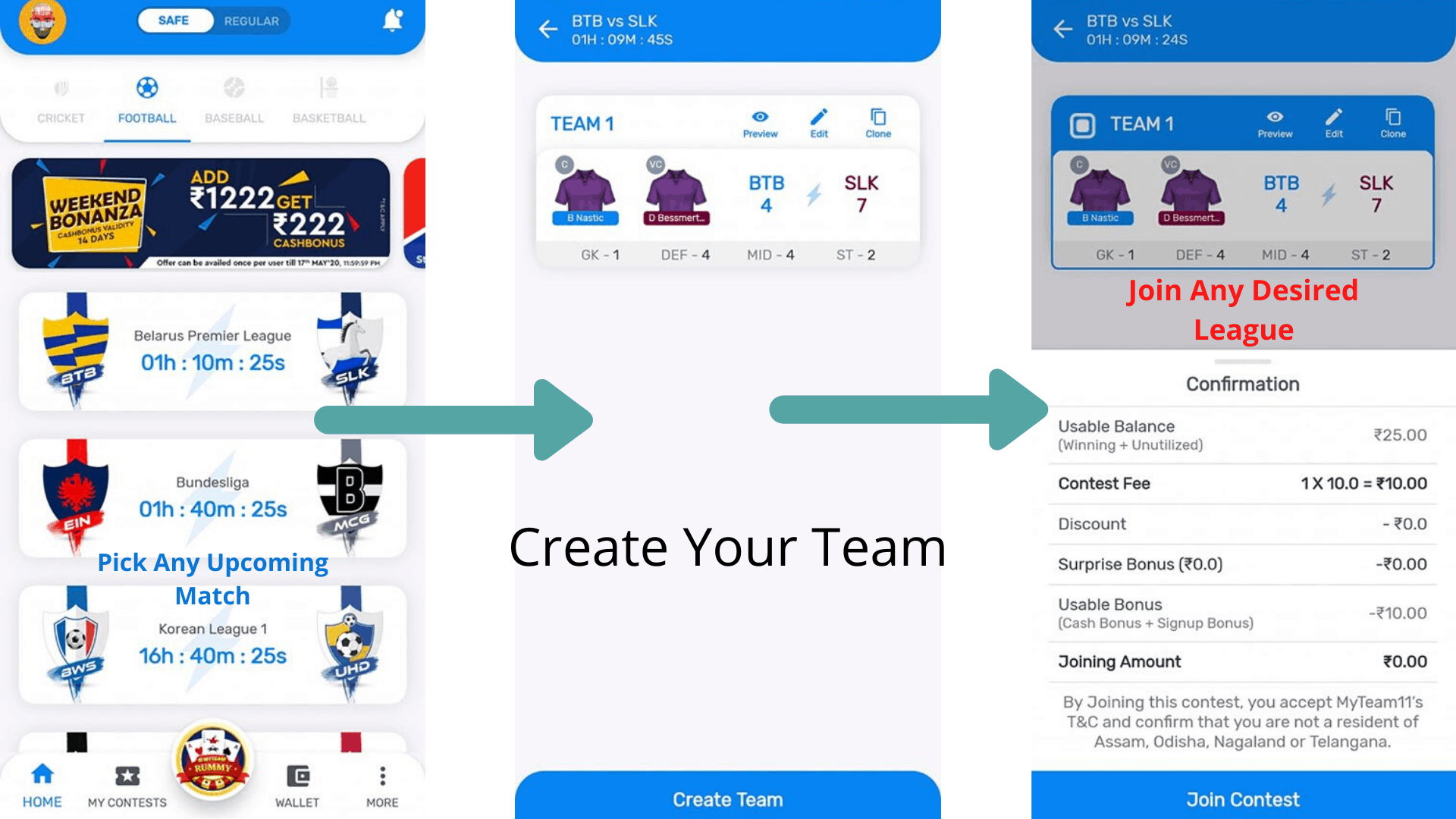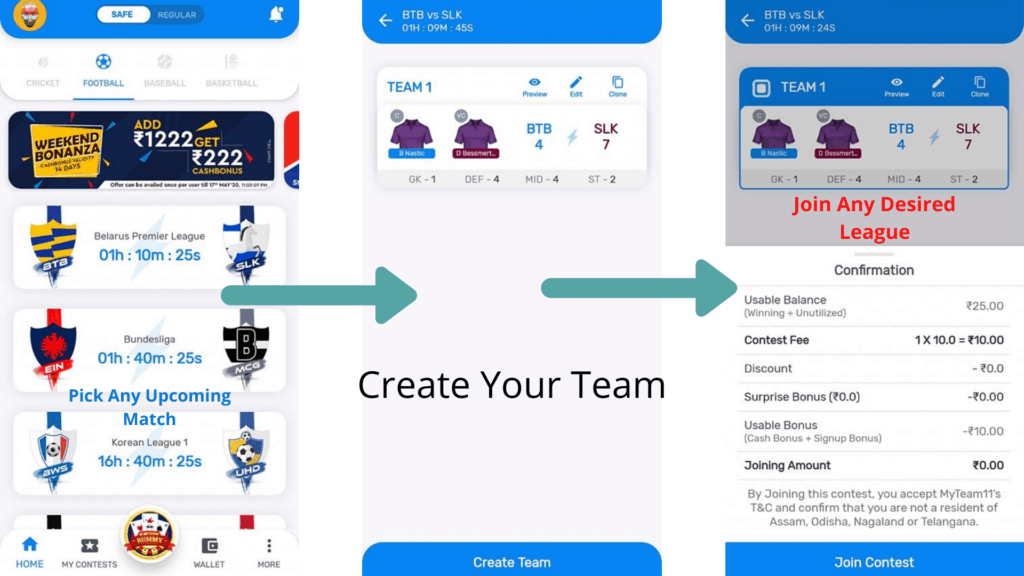 MyTeam11 Common Queries?
We will be updating some common questions on a regular basis to solve all your queries.
[sc_fs_multi_faq headline-0="h4″ question-0="How To Maximize Winning Chances In MyTeam11?" answer-0="Do some research, Analyse the players according to their past performances and role in the winning of their respective teams. Prefer all-rounder mostly and play H2h leagues. Take risks while choosing C & Vc to win grand leagues." image-0="" headline-1="h4″ question-1="How To Earn from MyTeam11 Referral code?" answer-1="You will earn bonuses by referring to the Myteam11 app to your friends and colleagues. If your referred person deposits any amount in the app then you will get 5% of it up to 1000Rs per refer." image-1="" headline-2="h4″ question-2="Is it Fine To Create Multiple Accounts Using Our Own MyTeam11 Refer code?" answer-2="No, This is unethical and your account will be banned anytime in the future and you will lose all your bonus amount and winnings." image-2="" headline-3="h4″ question-3="How To Update MyTeam11 App?" answer-3="You will be notified if a new version is available. You just have to click on the update and it will automatically install the new update. Or you can download the app from the official Myteam11 website." image-3="" headline-4="h4″ question-4="Where I Can Share the Myteam11 Refer Code?" answer-4="You can share directly on WhatsApp or any other social media platforms. " image-4="" count="5″ html="true" css_class=""]
How To Create A MyTeam11 Team?
There are multiple sports available, let's check out How to create a team for every possible game.
#1- Cricket
Select any upcoming match.
Create team.
Pick a total of 11 players from both teams.
Pick 1-4 Wicket Keeper
Pick 2-4 Batsmen
Pick 1-6 All-Rounder
Pick 2-6 Bowlers.
After picking the players, Select C & VC
Join the paid leagues to earn the amount.
#2- Football
Select Football from the top menu.
Select any upcoming match.
Create team.
Pick a total of 11 players from both teams.
Pick 1 Keeper
Pick 2-4 Batsmen
Pick 3-5 Defenders
Pick 3-5 Midfielders
Pick 1-3 Forward
Select C & VC, Join the paid leagues to earn the amount.
#3- Baseball
Select baseball from the top menu.
Pick any upcoming match.
Create team.
Pick 9 Players in total
Pick 2-5 Outfielders
Pick 2-5 Infielders
Pick 1 Pitcher & 1 Catcher
After picking the players, Select C & VC
Join the paid leagues to earn the amount.
#4- Basketball
Select Basketball from the top menu.
Create team.
Pick a total of 8 players from both teams.
Pick 1-4 Point Guard
Pick 1-4 Shooting Guard
Pick 1-4 Small Forward
Pick 1-4 Power Forward
Pick 1-4 Center
After picking the players, Select C & VC
Join the paid leagues to earn the amount.
#5- Handball
Select Handball from the top menu.
Create a team by choosing any upcoming match.
Pick a total of 7 players from both teams.
Pick 1 Goal Keeper
Pick 2-4 Defenders
Pick 2-4 Forwards
After picking the players, Select C & VC
Join the paid leagues to earn the amount.
#6- Quiz
Select the Quiz from the top menu.
Select the amount you leagues you want to join.
You can join free practice leagues to understand the concept.
You will be asked 8 questions from Sports, GK, Entertainment, etc.
Total prize money is distributed among members accordingly.
Final Verdict
Myteam11 app is a very popular sports fantasy platform that cannot be ignored. You can earn easy profits here by playing multiple sports, especially during lockdown period.
You can play Cricket, Basketball, Football, Baseball, Handball, Quiz
Vinit Godara is an owner of Myteam11 app, Its main office is situated in Jaipur, Rajasthan
It is a safe and trusted app.
There are 2 main ways to contact; Call at +91-1414579900 or Email at- [email protected]