Use our Playing11 Referral Code: Free50 to get a signup bonus of 50Rs that is usable in joining the Cricket, Basketball, Football leagues by creating your own fantasy sports team. Playing11 app has got major upgrades and made the layout similar to Fantasy Akhada, Blitzpools, 22by2 App.
Download Playing11 App
Older version of version is not working, All the user data is removed, we are trying to get in touch with the support to clear the doubts about new update. Meanwhile, you can download the latest Apk of Playing 11 app from the following links.
Playing11 app offers one of the most popular fantasy games, which not only provides you an excellent level of entertainment but also offers an opportunity to earn fantastic rewards and cash prizes. You can enjoy different sports on it and can show off your knowledge about them and prediction skills.
Key Highlights Of Playing11 App
No app download required.
Reverse fantasy league introduced.
Access your account on mobile browsers.
IOS and Android App Available.
Signup bonus of 50Rs.
Cricket, Basketball, Football leagues
Low Competition
New Refreshed layout
How To Register/Login Playing11 App?
Follow these simple steps to signup
1. Download Playing11 App or direct signup on Official website.
2. Click on register then Enter Email, Password, Playing11 Referral Code: FREE50 to get a signup bonus of 50Rs.
3. Enter mobile number, Verify by entering OTP.
4. Input your "Team Name", "Your Full name", "State" then proceed.
Alert!
Residents of Odisha, Telangana, Sikkim, Nagaland, Assam are not eligible to participate in paid leagues and cannot withdraw any winning balance due to government restrictions.
Playing 11 Referral Code
Playing11 not only allows you to win money by selecting players and winning points but also enables you to refer the game to your friends. If you refer Playing11 to your friend, then you can win a joining bonus if your friend joins the league on your referral. It is a great way to maximize your winnings with minimal efforts as all you need to do is to share your refer code on your social media accounts.
Get a 50Rs bonus on every person you refer.
A referred person should verify his/her mobile and email.
Get 2% of your friend's deposit up to 100Rs per friend.
Join the affiliate program, If you can bring a good number of referrals.
Get 100, 150, 200 bonus cash on your 5th, 10th, 15th referral, respectively.
How To Access Your Playing11 Referral Code?
Click on the top left drop down menu.
Click on "Refer & Earn"
Copy your Invite code and share on multiple platforms.
Open "My Refers" to check your referral history.
Playing11 App Customer Care Helpline
How to play on Playing11?
Playing11 is a multi-sport fantasy app in which you can use your sports knowledge and build a team on the basis of that. You need to create a virtual team with the best possible players as the better they will perform, the more points you will earn. The first thing you need to do is select a match for which you want to create a virtual team. Then you need to use all your knowledge and experience and build a team with players of your choice.
Once you have your team ready, you can join a league in which you want to play. Now all you need to do it, keeping an eye on the match and the performance of your team players. You can have a look at the fantasy point system to see how your players are performing. Use the points earned in the match to win real cash rewards. You can withdraw the winnings in a single click, and it will be deposited to your account within the next 24-35 hours.
Guidelines To Build Your Playing11 Team
It is quite easy to create a virtual team for the league of your choice, but you need to keep the following guidelines in mind while selecting the players in Playing11;
It is quite easy to create your teams in Playing11 as it offers tons of features and a very interactive user interface which reduces the efforts of searching the specific players a team.
1. List of team players are separate and users easily differentiate between players of Team 1 with Team 2 players because of separate list columns and colors.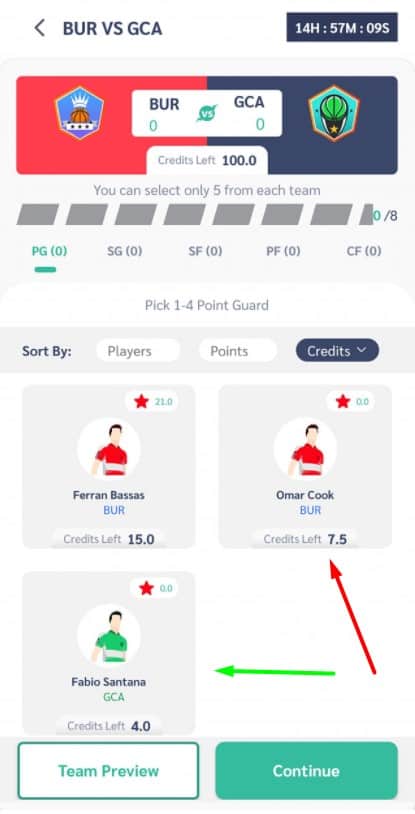 2. Unsure about the performance of any player? Check the player stats before picking him/her in your Playing11 app team.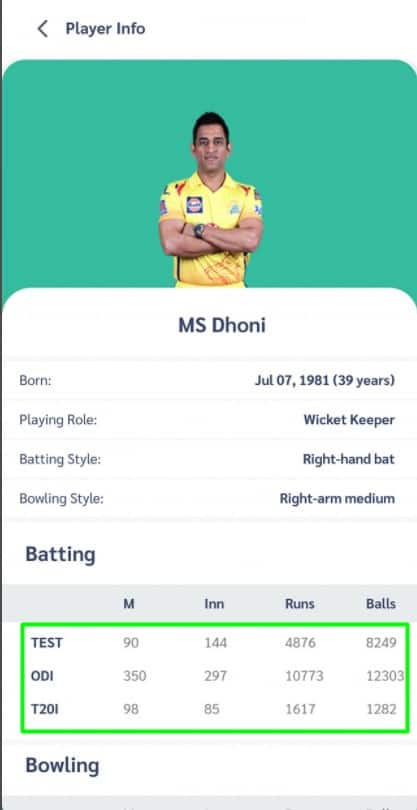 3. Preview your team after selecting all the players for the final confirmation before the match time starts.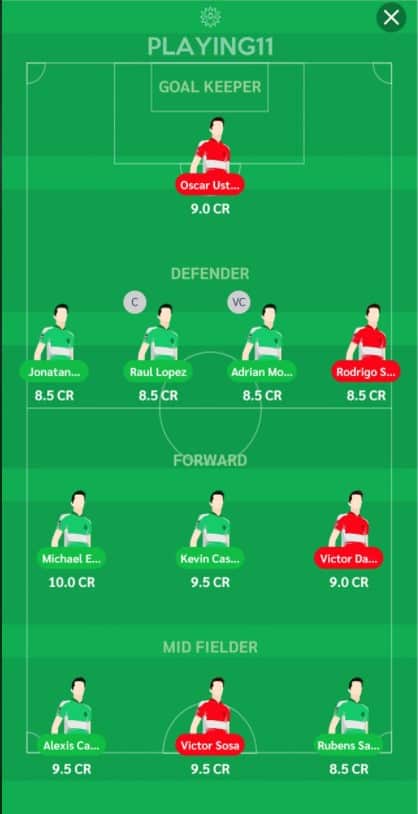 Cricket
You need to pick at least one all-rounder but cannot choose more than five of them.
Your team must have a minimum of two batsmen and a maximum of five.
It is compulsory to select at least one Wicket Keeper.
You can have up to six bowlers in your team, but having a minimum of 2 of them is necessary.
Out of all the 11 players in your team, Pick the Players in a ration of 6:5 or 7:4, You can pick max 7 players from a single team.
Football
Pick 1 Goal Keeper
3-5 Defenders
1-3 Forward
3-5 Mid Fielders
Select C, VC then save your team.
Join any of the league you want.
Total 11 players to be picked.
Max 7 players from a single team.
Basketball
1-4 Point Gaurd
1-4 Shooting Gaurd
1-4 Small Forward
1-4 Power Forward
1-4 Front Forward
Total 8 Players to be picked
Max 5 players from a single team
MyPlaying 11 Customer Care Number
Expect the replies within 24 hours.